Do you want to know the difference between Knife and Dagger? Don't be confused! A "Knife" and a "Dagger" are two different things.
We all know what a knife is and when and how we use it. But about the dagger, we all may not have the same acquaintance.
A "dagger" does not have a clear meaning. If you search in an online dictionary, you may find it is a "Short stabbing weapon," The legal definition of a dagger in California, on the other hand, is so wide that it encompasses a ball-point pen.
But if you ask a knife manufacturer to show you several daggers, you'll almost certainly see symmetrical double-edged blades.
A knife, in my opinion, is largely a cutting tool, but a dagger is primarily a stabbing one. It matters size between knife and dagger
And I'm guessing their beginnings are very distinct, even though they currently originate from the same factory and appear to be the same product to different people.
And that's why we are now seeing a new product, "Dagger knife."
| | | |
| --- | --- | --- |
| | Knife | Dagger |
| The structure and integrity | Less strong and smaller than a dagger | Stronger & Bigger than knives |
| Design | One side sharpened | Both of its edges sharpened. |
| Blade Durability | Less | More |
| Nature | Tools in the kitchen can be also used as a weapon in an emergency | Close combat weapon |
| Purpose | Uses for multiple purposes | Uses in combat fighting |
| Sharp point | the sharp point is not mandatory | the sharp point is a must |
| Weight | lightweight | Heavier than Knives |
| Size | Available in a variety of sizes | Available in a variety of sizes, usually larger than a knife |
| Uses | cutting and chopping | stabbing and thrusting |
| Blade Length | Less than 12 inches | 6 to 18 inches |
| Blade Width | Mostly Wide | Mostly Narrow |
| Handle | Simple wooden, metal, or rubber handle | Well-designed wooden handle with symbols |
| Cost | Inexpensive | Expensive |
The difference between Knife and Dagger
What to choose: Knife vs. Dagger?
We need to consider some facts before choosing between a knife and a dagger.
Main Usage
Knives are primarily designed to protect the user, and some are even harmless to the human body. The main use of knives is to help humans in several sectors ranging from the kitchen to the forest.
Nowadays, Knives are mostly used to cut or chop foods, open food boxes, and even cut paper for crafts. It is a multi-purpose tool that we utilize regularly.
In today's world, we may find any use of daggers exclusively for self-defense and army objectives. And daggers are exclusively featured in various movies and TV series.
Many collectors desire to collect historic daggers as showpieces and emblems of their forefathers. The cold steel push daggers have a larger body and keen blades on both sides. Its only aim is to discreetly pierce into the flesh. With the necessary license and certification, you can also have one for self-defense or display.
Blade Type:
A knife's blade is single-sided, but a dagger's blade has sharp edges on both sides. The knife blade's un-sharp edge is designed in such a way that it will not cut even when pressed against something. This is because it is usual practice to contact or grasp the knife's edge with fingers for greater grip and pressure when using it.
On the other hand, a dagger's two sharp edges are simply made to be agile and grasped with merely the handle.
Legibility:
We use a knife for everyday usage. It is widely used in the kitchen for cooking and other tasks. So, no matter how well made it is, it will ultimately wear down and need to be replaced.
On the other hand, a dagger is a valuable and special weapon used for fighting or defending against attacks. Its use is minimal, and the high quality and low consumption ensure that it will endure a long time.
Cost:
Knives have huge demands in the market and are mass-produced in factories. Knives are made of a variety of materials, some of which are more expensive than others, but for the most part, they are reasonable, and the knives are offered at a low cost.
The dagger, on the other hand, has a limited market and is more expensive to create. Daggers are both a hobby and a combat instrument, and they are regarded as pricey when compared to blades and other comparable items.
So, what do you need to buy?
It seems complicated, right? Some quick tips for you:
For regular cutting to work with comfort, use a knife.
For self-defense and use as a showpiece, get a dagger.
And if you are looking for some knives for hunting and camping, which also help you in self-defense and amaze your friends, if necessary, then buy one of these from the list!
Which one to Buy: Knife vs Dagger
SOG E37T-K FIXED BLADE CLIP POINT KNIFE
This knife is lightweight, solid, and perfect for hiking and camping. It is not a large knife, only 9 & 3/8″ overall length, and an incredibly lightweight 5.7oz. When we ordered the knife from amazon for experience, it came with the Kydex sheath. The knife snaps into place firmly. It was in an amazing, well-made box.
We are sharing some of our experiences with you:
The grip is easy to hold even in a wet hand, features a hole for a lanyard, and offers ideal balance to the knife.
The handle is textured and not too tiny like many knives on the market, allowing for a stronghold. Even though the original pup has an excellent blade, the elite has a heavier blade that is worth the extra money.
The blade has a fantastic edge. You can use this for any purpose, even for cutting a tin can. If you're thinking about getting a field knife, forget about "larger is better"; THIS knife is superior.
The Sheath has a rubber strap with a single clasp to secure the knife in place, and it is strong and nicely crafted. The snap is very difficult to open one-handed, and the rubber appears to be breaking apart with each effort. Instead of using a rubber strap, the company could use a nylon one with a plastic or metal clasp.
Overall, we believe you will have a difficult time finding a better knife for the money. If you're prepared to put in a little effort, you'll have a great tool to work with.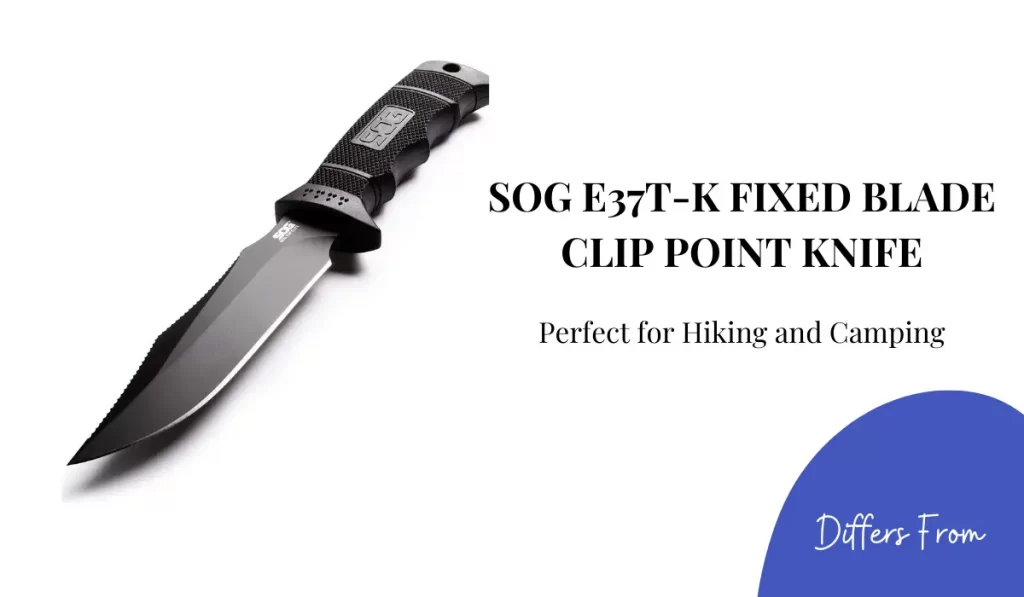 Perfect For:
People who love camping, hiking, and backpacking
For those who want a knife for safety purposes
For a woman, because it is a small light
GERBER LMF II Survival Knife, Black [22-01629]
Have you heard about the Gerber? Let's have some stories about the company first.
Gerber is considered one of the corporate leaders in outdoor gear. In 1910, Joseph Gerber founded Gerber Advertising in Portland, Oregon, and for Christmas, he contracted a local knife manufacturer to create 25 sets of kitchen cutlery as client presents. The knives were so popular at that time that Mr. Gerber eventually left his agency to start Gerber Legendary Blades in 1939.
Gerber LMF II survival knife was designed for the US Army as per their requirement. This Army-spec survival knife is also available for the public, and you can buy it from Amazon.
There are various versions of this knife, but from our side and surveying hundreds of users, we found all versions of the Gerber LMF II Survival Knife are almost the same.
You may argue that, yes, there are only differences in the color of the handle and the accessories that come with the packed model.
As always, we don't share any specs of the knife. Rather we will share our experiences of using the knife. Find it HERE:
The knife feels fantastic in hand. It's a perfect weight. It has a really strong feeling about it.
The Sheath, knife, and leg straps all feel and look solid and durable, and it feels excellent in your hand. Though the Sheath is a little bulky, for many of us, it's a plus for its comfort. The Sheath is fairly robust, and it can be taken out with some effort.
This knife, however, is a little too hefty for casual work. And it's not a smart idea to carry it with you every day and everywhere you go in a no-survival situation. However, if an emergency circumstance arises, you will be delighted to wield this incredibly lethal knife.
The knife weighs 11.67 oz., and the Sheath weighs 24.28 oz., according to the Gerber website. We can tell you that this is a heavy knife in comparison to others; the blade is thick, but its weight is deliberate; it provides you more force; the Sheath is also a touch heavy. It's logical, right? It's a "Bad Boy" hunting knife, after all!
Oh! Forgot to mention! The built-in knife sharpener is a bonus.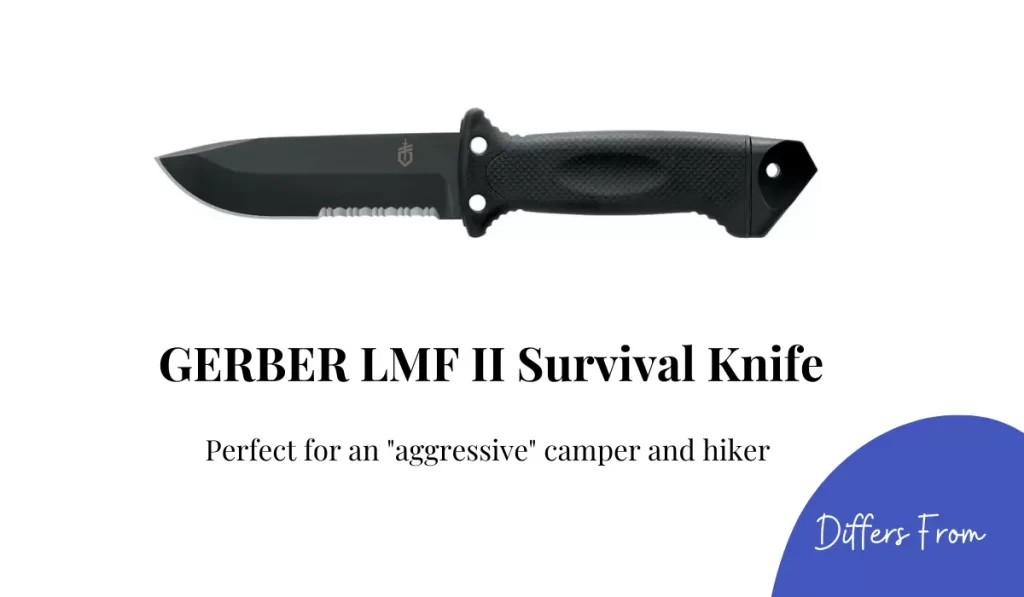 Perfect For:
An "aggressive" camper and hiker
Getting out of trouble in the jungle
Cutting virtually anything.
For bush crafting
Fantasy Tactical Fixed Blade Hunting Knife: A Perfect Gift
If you want something very large, like a machete, you must look into this knife. It looks awesome, and its sharpness is not super accurate to the actual knife. It feels nice and is fun to flip in the air. The handle is wrapped with a faux leather strip and is incredibly sturdy
This could be a perfect gift for your dear one who loves to collect daggers or knives. This knife can be an awesome display piece in a game room or used for cosplay.
But don't use this for throwing! As mentioned, the knife is big, and it's difficult to maintain balance while throwing.
Do I mention how large it is? It's more than a knife, and its length is about the length of one of our forearms. So, If you want something in between a dagger and knife low price point, this could be a perfect match for you.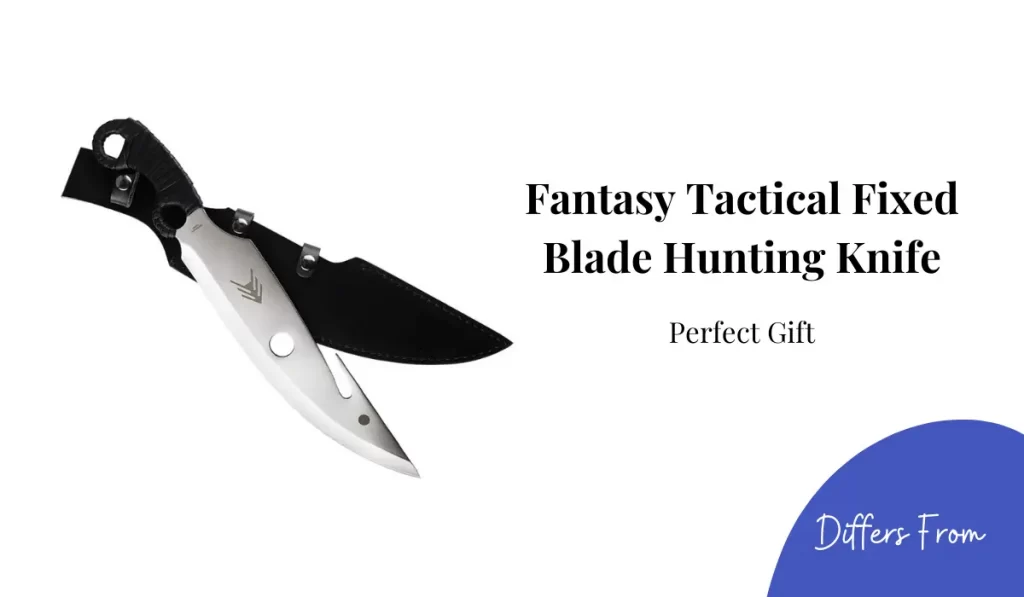 Our verdict:
A large but lightweight knife
The size is very large, and you may use this for showing it off like a dagger
Perfect for birthdays, Christmas, or any other occasion.  
In conclusion, a knife is a common tool used for everyday tasks, such as cutting food or opening packaging. A dagger, on the other hand, is a more specialized tool used for combat or self-defense. While both knives and daggers can be used for everyday tasks, daggers are often more specialized and provide a sharper edge that can be more effective when it comes to harming someone or defending oneself.
To know more about the difference anything just click here.